Monday, August 3, 2009, 12:37 - Commentary, Photo of the Day
The Europeans is going on summer break (in reality we are working on updating the website with lots of new images) so we won't be posting that frequently for the next two weeks. Until then, he's an
interesting article
about how we look at things from the New York Times.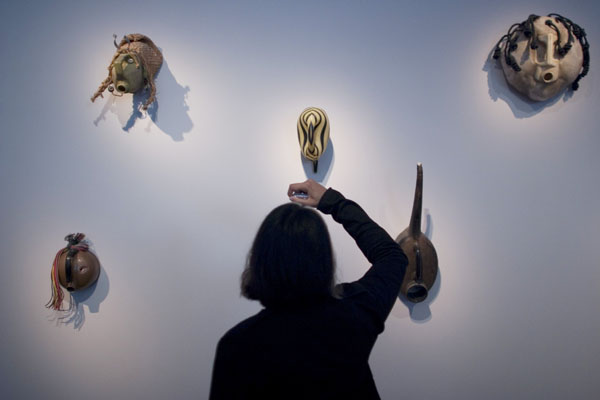 Photographing the photographer. © Damaso Reyes
"Visiting museums has always been about self-improvement. Partly we seem to go to them to find something we already recognize, something that gives us our bearings: think of the scrum of tourists invariably gathered around the Mona Lisa. At one time a highly educated Westerner read perhaps 100 books, all of them closely. Today we read hundreds of books, or maybe none, but rarely any with the same intensity. Travelers who took the Grand Tour across Europe during the 18th century spent months and years learning languages, meeting politicians, philosophers and artists and bore sketchbooks in which to draw and paint — to record their memories and help them see better.

"Cameras replaced sketching by the last century; convenience trumped engagement, the viewfinder afforded emotional distance and many people no longer felt the same urgency to look. It became possible to imagine that because a reproduction of an image was safely squirreled away in a camera or cell phone, or because it was eternally available on the Web, dawdling before an original was a waste of time, especially with so much ground to cover."
The full article is well worth reading. I have found myself buzzing through a museum, trying to see as much as I can. Of course when I go to see a specific exhibition I tend to slow down quite a bit but I do buzz by images or works that aren't that interesting. Perhaps it is our fast paced lives but the author of the article goes on to say "Artists fortunately remind us that there's in fact no single, correct way to look at any work of art, save for with an open mind and patience."
Which is true! There are more ways of seeing the world than we can imagine and this fall The Europeans hopes to bring you more unique views!
Back
Next