Monday, January 5, 2009, 13:00 - Commentary, Photo of the Day
The new year has just begun but as in most years there is quite a bit of carryover from the past, as if the year gone by just doesn't want to let go. The past is ever present in Europe, nowhere more so than in Germany where extreme right-wing attitudes and even violence are still prevalent as we
learn first from Der Spiegel
and then from
our friends at the Economist
.
"The mayor of the small town of Warin in eastern Germany has gone into hiding after a threat against him appeared on a far-right Web site.

"Hans-Peter Gossel, 53, has been under police protection for a week after the following entry appeared on Altermedia, a Web site popular with neo-Nazis: "Watch out!!! It's high time for Lebkuchen cake knives!! The next 'victim' is making himself available! Gossel?" Gossel said the Web site also contained a video showing a matchstick man being cut up with a knife."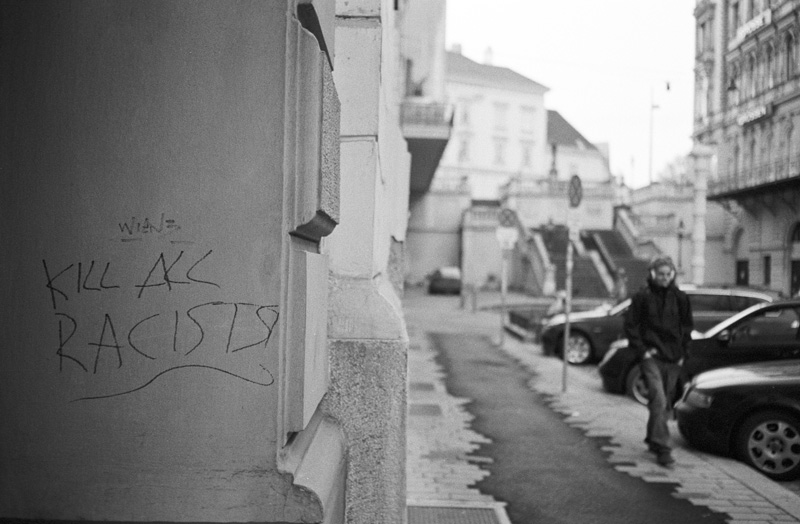 Not a good answer either… Vienna 2008 © Damaso Reyes
"ALOIS MANNICHL, police chief of Passau, in Bavaria, pursues neo-Nazis to great lengths. A group recently buried a leader in a coffin draped with the swastika. Mr. Mannichl had it dug up. On December 13th they took their revenge. Crying "you will not trample the graves of our comrades any more, you leftist pig," somebody stabbed and almost killed Mr. Mannichl at the door of his house in Fürstenzell, near Passau. This brazen attack on a senior policeman brings a "completely new dimension" to violence by right-wing extremists, declared Bavaria's interior minister, Joachim Herrmann."
Clearly what Germany has been doing up until now to combat right-wing violence has not been as successful as it needs to be. As I have said before, the nation's policy of banning political parties and limiting speech and expression does nothing to solve the problem. A more intensive social dialogue needs to happen, from the top down as well as the bottom up. These areas, I'm talking to you east Germany, need to be targeted. A problem of this magnitude doesn't go away overnight but it does seem like the German government needs to take a new tack.
Back
Next