Friday, April 6, 2007, 09:43 - Personal, Project News
Stuttgart
"Ask and ye shall receive" the Gospel of Matthew tells us. That's the interesting thing about clichés, there is at least a kernel of truth in them, otherwise they would not be clichés. I suppose it is possible that the universe heard my plaintive cry
about not feeling accepted
and decided that Damaso deserves some validation. So to quote another cliché, when it rains, it pours…
Over the past few months, usually in the afternoon, I focused my psychic energy to some room in Vienna, where a group of distinguished people were no doubt gathered around a conference table debating the merits of different candidates. Apparently my focused thoughts, or my talent or proposal or blind luck, seems to have swayed them.
I am a
Fulbright Scholar
.
Yes, I am as surprised as you are.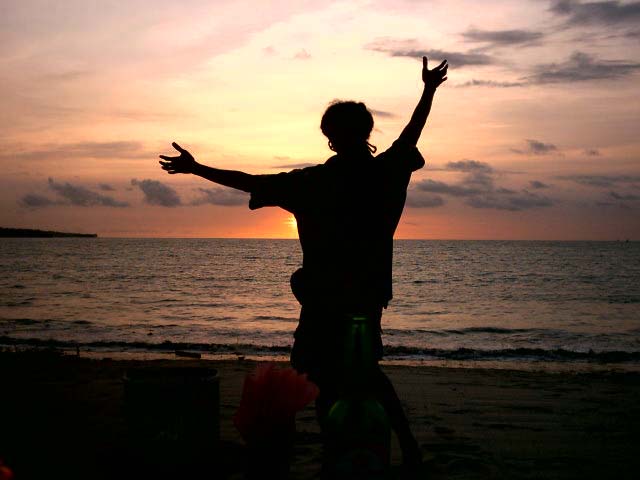 Pretty much how I feel right now.© Damaso Reyes
I figured since there was only one slot that it was very unlikely that I would be so honored as to be selected. But next January and February I will be an artist in residence at the
Museums Quartier
in Vienna.
There is little doubt in my mind that this is indeed a turning point in my life, one that I have worked very hard to achieve. But to say that this success is mine and mine alone would be dishonest. Thanks go to Audrey Jonckheer at Kodak,
Elinor Tatum
, Publisher of the
Amsterdam News
, and
Deb Willis
, Chair of the Department of
Photography and Imaging
at NYU for writing me recommendations. I am sure that the kind words of these three strong women played no small role in securing this fellowship.
That I have been given such an honor speaks volumes about the people who have trusted and supported me over the years. I still have a long way to go but your faith in me and my project has sustained me even though the darkest of hours. It is with that faith that I continue on this winding road.
But wait, there's more…
Just days after I learned of the Fulbright, while I was happily snapping away in Hamburg, I received an email notifying me of an additional honor. I am one of ten American journalists selected to receive an
Arthur Burns Fellowship
. That's right, this summer I will be back in Germany, working for some big time publication, stirring things up. It truly is an embarrassment of riches but after hearing the word
NO
so many times over the years these two fellowships allow me a sigh of relief.
During one of my many walks in the woods over the past few weeks I often thought of what I would do after my time at
Solitude
ended. I began conjuring creative ways of keeping the project going and none of them satisfied me. Now I have a little more breathing room to continue to create. I look forward to taking full advantage!
Back
Next