Wednesday, August 6, 2008, 11:07 - Commentary, Photo of the Day
Brooklyn
We've been kinda down on the state of the discussion surrounding immigration in Europe lately but lo and behold there is actually
a positive piece in the Guardian
! The author interviewed twelve children who had recently immigrated to the U.K. and asked about their experiences. What's nice about this piece is that we actually hear the voices of the immigrants, something very rare in the mainstream media.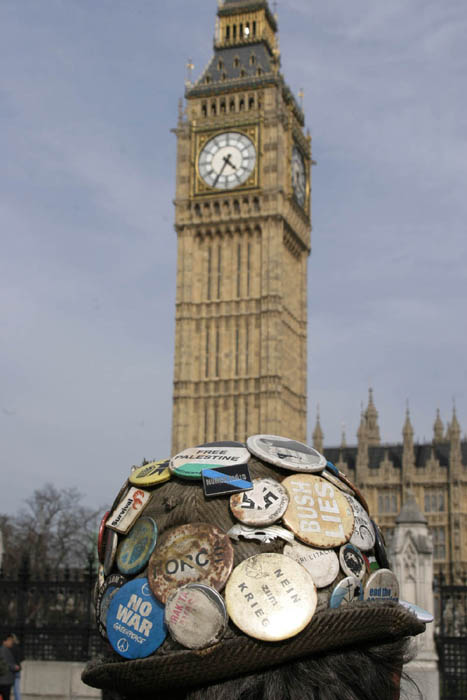 Speaking truth to power! © Damaso Reyes
It's a great piece and I encourage you all to check out the full text but here is one part:
Oliwia, 13, moved from her two-bedroom flat in Slupsk, Poland, in 2006 with her mother, who was looking for work. They now rent a room in Harrow, northwest London. Her mother works as a cleaner and studies English at college. Oliwia goes to school in Hounslow.

How did you find out you were moving to the UK?

My auntie was living in England and when she came back to visit us my mum said, just for a joke, that we would move there too. Then my mum thought about it seriously. She showed me our tickets and I opened my eyes and I was like: 'It's my dream come true.'

Why did you move?

In Poland they don't want that many people to work if they're quite old. Over here you can do whatever work you like. My mum doesn't speak English well so she's a cleaner now, but she's learning English so she can look for other work. She'd like to work in a shop.

What happened the day you left?

Grandma and grandpa took us to the airport. I had a diary and my mum wrote me a message saying that on this day our lives would change completely. It was really nice but quite sad.

What was your old home like?

I lived in a flat at the top and I had my own room. It was about 20km to the beach. In the summer holidays we'd go to the seaside.

How was your first day at school?

My first day was scary. I didn't speak English well so I didn't understand a lot, but it was fun.

What are the other children like?

In Poland you only have people from Poland but here you have people from all different countries. Some people are racist; I tell them to stop or I just ignore them.

What do you like most about living here?

Fast food. It's really cheap but it's so tasty.

What do you miss most about home?

My grandma and my grandpa. I used to spend all of my summer holidays with them.

Where will you live when you grow up?

Maybe somewhere really hot but maybe not, because then there's a lot of spiders, so I think this is the best country because it's quite warm.

Back
Next