Friday, September 7, 2007, 21:21 - Project News
Berlin

So what is it I do all day?
It's hard to put into words, but don't worry, I am keeping busy, mostly working on articles and looking glamorous at the Vanity Fair offices. Hard to believe that I am half way done but it's true!
In any event, lest you think that my star has risen too high,
Jimmie
and I cannot for the life of us find a news organization to support our application to the
Pulitzer Center
to go to Kosovo. Hard to believe I know but it is starting to drive me a little nuts. As much as editors complain that they can't find good stories here we are like the pretty girl at the bar, waiting for someone to notice us. So if you know some editors, feel free to pull some strings. Check out the proposal below…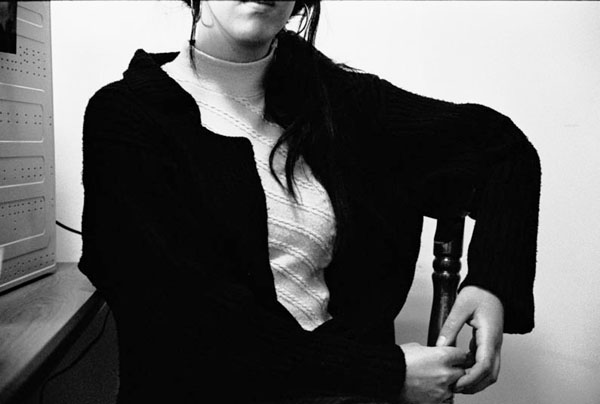 Domestic Violence Survivor. Kosovo, 2005
The Legacy of Rape
In 1989, when the Serbian government revoked Kosovo's status as an autonomous province within the Socialist Federal Republic of Yugoslavia, political analysts and activists in that country and abroad anticipated deterioration. The danger became more apparent with each passing year, even though the wars that engulfed the other parts of the former Yugoslavia did not spill over into Kosovo. By late 1996, a previously unknown guerrilla group called the Kosovo Liberation Army (KLA) began coordinating attacks against the Serbian police. Faced with limited options at that point, the West chose military action by NATO in 1999. Taking advantage of the NATO bombing, Serbian and Yugoslav forces "ethnically cleansed" more than 850,000 Kosovar Albanians, and killed thousands more. The NATO bombing eventually forced government troops out of the province, but not before serious war crimes had been committed-atrocities which continue to poison Kosovo's post-war environment, including rape and sexual violence.
Writer Jimmie Briggs and photojournalist Damaso Reyes are proposing a feature article on the post-war legacy of rape in Kosovo and the struggle for female survivors to achieve legal justice for their attacks. Of late, the overwhelming majority of media attention on Kosovo deals with the quest for independence from Serbia, but for Kosovar women there are more pressing issues. Many who survived attacks during the war do not want to report the rapes for a variety of reasons. Some women victims of rape expressed fear that they would never be able to marry. Others felt terrified that they would be shunned by society. Many women have expressed anger at their attackers and willingness to testify at the International Criminal Tribunal for the Former Yugoslavia (ICTY). That willingness to testify is tempered by fear that their attackers may still be at large in Kosovo, or that they may return.
The piece which we are proposing will be built around the personal struggles and professional efforts of those in the legal rights community working on behalf of justice for women survivors. For women willing to testify, issues of witness protection and support loom large. Once open conflict broke out, the jurisdiction of the ICTY over Kosovo began. As they tried to ethnically cleanse Kosovo, paramilitaries often aided by masked Serb neighbors systematically searched villages for girls of prime, child-bearing age. It is estimated by the World Health Organization and the US Centers for Disease Control that as many as 20,000 Kosovar women (4.4 per cent of the population) were raped in the two years prior to NATO forces entering. Unlike Bosnia, where international organizations were located throughout the war, the Kosovar province was on its own. We hope that through this story we can begin to shed light on the challenges that Kosovo's women face as the province moves towards independence.
Back
Next