Friday, November 9, 2007, 11:52 - Shooting, Commentary
Stuttgart
One of the issues I struggle with the most is post production. It is so much fun to be out in the field, shooting roll after roll, enjoying the world around me that I rarely spend as much time as I should in the darkroom processing that same film or in front of the computer scanning and editing. So this week as supposed to be all about catching up on some much needed post production but alas, I have failed. I did manage to process the film from my trip to
Hameln
as well as some rolls from
Paris
. I even went through all 48 rolls of my processed film and edited them down to what I would like to scan, but after that things kind of stalled.
Sure the late night drinking and discussions with the other fellows in the house didn't help, but I just have a hard time motivating myself to do repetitive work like scanning. Once I start I am okay with it but getting the motivation to begin in the first place is very difficult for me. So next week, I promise I will start scanning, editing and posting new work online!
Missed Connection. © Damaso Reyes
It didn't help that I had a bit of a distraction the past two days: the sheep have returned!
As you might remember
this spring I met a local shepherd who was grazing his flock on the grounds of Solitude. Well I shot a roll or so and was all set to spend a day with him when our plans fell through. I did get at least one memorable image but I longed for more.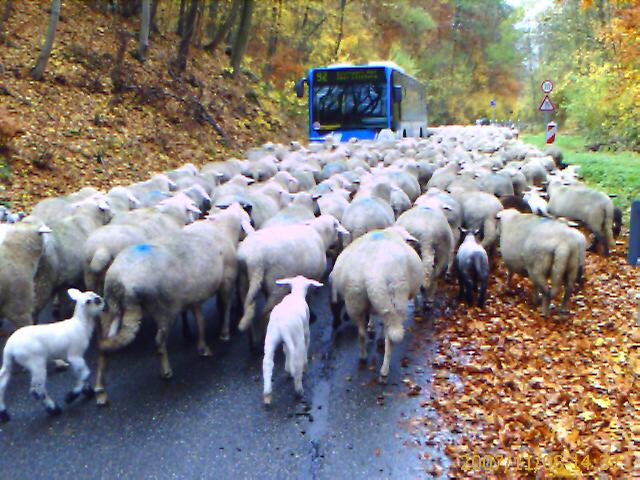 Traffic Jam. © Damaso Reyes
Two days ago I passed one of the other fellows in the hall who asked me "Have you seen the sheep?" I looked outside and lo and behold the sheep, and shepherd were back! I vowed not to miss my chance again and went out to do some more shooting and I ended up talking with Reinhold, who is a very nice guy by the way. Yesterday on my way back from the supermarket he was here again and motioned me to come over. In German he asked if I had some time today. Thinking about how little I actually wanted to sit in front of the computer I said yes. He told me that he would be taking his flock home in a little while and if I wanted to walk with him I was welcome. I had mentioned to him that I was interested in buying a sheepskin so I was eager to get the goods. Half an hour later we were walking down the road, blocking traffic with me as assistant shepherd bringing up the rear and making sure none of the baby lambs, one of which was just two days old, got lost.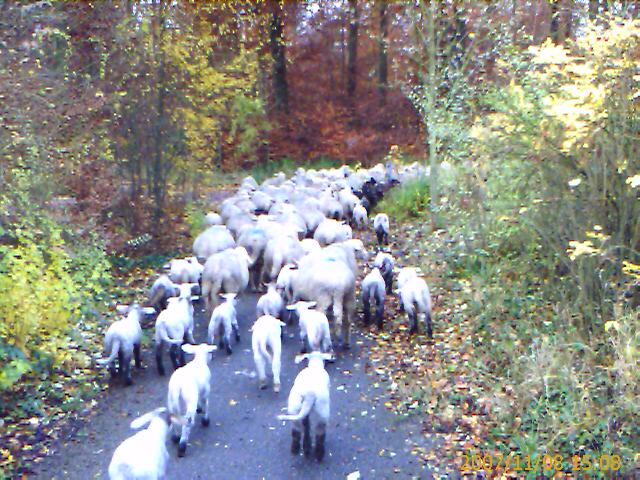 Into the Woods. © Damaso Reyes
It was a lot of fun, playing shepherd and getting to see a little more of the countryside. We wound our way through the woods and a small town, everyone amazed to see so many sheep walking by. One of the things I have enjoyed about my time here is the chance to take a more in-depth approach and for me the shepherd is just one example. After spending most of the year here I have come to realize that this is the way that I want to work: at my own pace and on the topics that interest me. Now of course I have to figure out a way to pay for it all!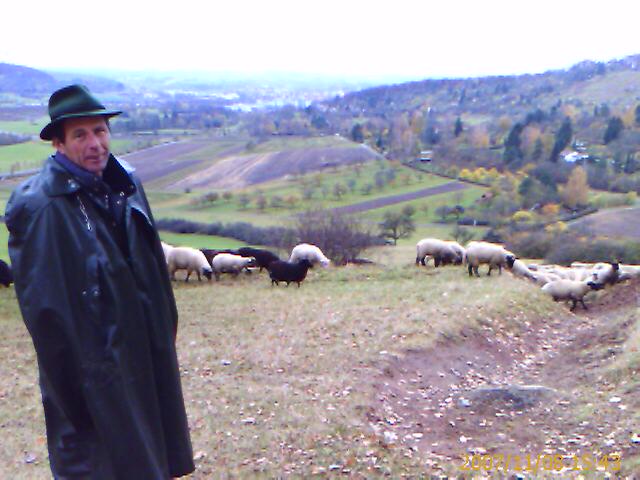 Our Friend Reinhold. © Damaso Reyes
Back
Next