Tuesday, October 14, 2008, 12:31 - Commentary, Photo of the Day
It seems like immigration, and the tensions that are closely associated with it are never far from our posts here. Today we turn out attention once again to Italy which has one of the most complicated relationships to immigrants of all E.U. member states. As we pointed out recently some immigrants have integrated so well they
win top prizes
for their culinary achievements.
But that doesn't mean that anti-immigrant violence doesn't happen. Last month in Milan an African immigrant
was beaten to death
after a store owner and his son thought he stole a package of cookies.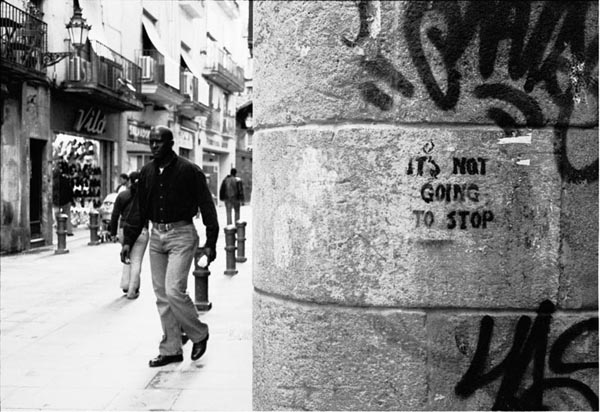 The writing is
still
on the wall.
Spain
2005. © Damaso Reyes
"Although there is some debate about whether the killing was racially motivated, the attack on Mr. Guibre was the most severe in a recent spate of violence against immigrants across Italy. The attacks are fueling a national conversation about racism and tolerance in a country that has only recently transformed itself from a nation of emigrants into a prime destination for immigrants.

"A black English person, or French person, or Dutch person, that's O.K.," said Giovanni Giulio Valtolina, a psychologist and scholar at the ISMU Foundation in Milan, which studies multiethnic societies. "But a black Italian is a very new thing."
Italy, like the rest of Europe is changing as immigration continues to accelerate. The question is how will these societies adapt to and integrate their new citizens?
Back
Next