Monday, August 18, 2008, 13:17 - Commentary, Photo of the Day
Brooklyn
So the time is ticking away until I head to France and of course I have more on my plate than I can handle. So I might not be blogging quite as much as normal but have no fear, at least they will be interesting posts.
I was on the New York Times website and there was a fascinating article about how ordinary people are
using Photoshop to change their personal photographs
.

"REMOVING her ex-husband from more than a decade of memories may take a lifetime for Laura Horn, a police emergency dispatcher in Rochester. But removing him from a dozen years of vacation photographs took only hours, with some deft mouse work from a willing friend who was proficient in Photoshop, the popular digital-image editing program.

Like a Stalin-era technician in the Kremlin removing all traces of an out-of-favor official from state photos, the friend erased the husband from numerous cherished pictures taken on cruises and at Caribbean cottages, where he had been standing alongside Ms. Horn, now 50, and other traveling companions.

"In my own reality, I know that these things did happen," Ms. Horn said. But "without him in them, I can display them. I can look at those pictures and think of the laughter we were sharing, the places we went to."

"This new reality," she added, "is a lot more pleasant."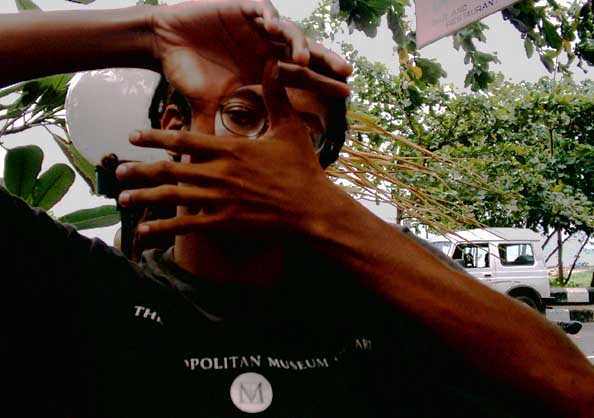 I see what you did there… © Damaso Reyes
One of the challenges we photojournalists face is to accurately (however you define it) portray the world and people around us. While it is not true, people have believed that photography, especially photojournalism does this. But now people are rewriting and recreating their own lives. What does this do to the way we see the world?
When we lose our faith in the veracity of the image, or at least the idea that photographs are by default honest representations of our world, will we believe the images that show us parts of the world we would rather not see like atrocity or injustice?
Clearly our relationship to the image has evolved with the medium but I do feel like we are nearing a watershed moment where we will have ubiquitous access to imagery because of mobile phone cameras and the internet and at the same time not believe most of the photographs we see.
As someone who works to expose what we often ignore I can't help but feel a little nervous!
Back
Next