Tuesday, December 19, 2006, 05:03 - Travel, Personal
New York City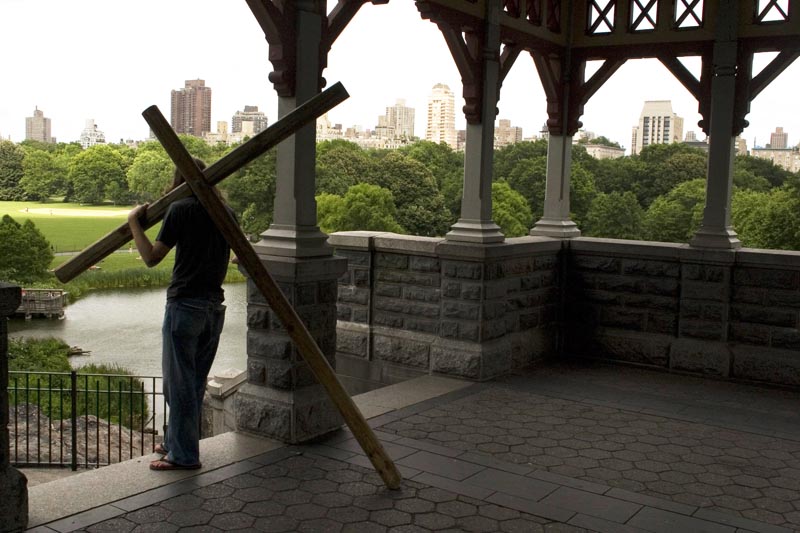 ©Damaso Reyes
Everyone has faith, even if you are an atheist like me. We have faith that we will wake up in the morning, believe that the elevator will work, or that we will find true love. While my faith is not deity based sometimes I feel that it is no less abstract.
It seems like every step in my career has been an act of faith. The first time I went to
Rwanda
in 1999 with
Jimmie Briggs
he had enough faith in me to insist that I go on my first international assignment, over the objections of some who felt that I didnít have the experience. I knew that I could do the work but of course there was nothing to prove this. In the end I think the results validated my faith but it is hard to describe how nervous I was before that flight.
When I left for
Indonesia
in 2001 with $400 and a one way ticket I simply believed that things would work out. I knew all of one person on the ground but I knew that I would figure out a way of surviving. Of course in the end I certainly did, mostly through equal parts of luck and determination.
Now I am heading to Germany for six months and that old familiar feeling is coming back. Uncertainty. Anxiety. Doubt.
This may come as a shock to some people who might think of me as someone of unshakable conviction, something that always makes me laugh. But I think that if you donít have some doubt then you arenít a person of faith, youíre a fanatic.
This trip is in many ways better organized and more structured than some of my past endeavors, after all I have a
fellowship
, a place to live and a stipend, but the doubt remains. I doubt think it is so much about this trip, after all with all those things in place I doubt that I will have too much trouble getting some interesting images, it is more about the greater idea of spending the next five years or so based in Europe. Itís funny as secure as I am for the next six months I have already been thinking about what I will do for the second half of the year. Hereís to hoping that the
Guggenheim Fellowship
come through!
In some ways I feel like this is my version of the famous
five stages of grief
. Call it Damasoís Five Stages of Travel Preparation:
Stage 1:
Denial - The "This can't be real" stage: "This is not happening to me. There must be a mistake.Ē This is pretty much the same. While I know the trip is coming it is so far off in the distance that it is not real to me.
Stage 2:
Nonchalance Ė The ďCasual indifferenceĒ stage: ďYeah I know Iím leaving soon, so what?Ē This usually happens about two months before I leave.

Stage 3:
Depression - The "Defeated" stage: "There is no way that I am ready for this, how could I have come up with this silly idea?Ē Again this is pretty much the same as the classic model. This usually pops up about a month before I leave. It is also tied into not wanting to leave New York, which is in addition to being an amazing city, my home town.

Stage 4:
Acceptance - The "This is going to happen" stage: ďI'm ready, I canít fight it anymore...Ē About two weeks before I leave I give in to the fact that A: Iím not ready, B: Iím probably not going to be totally ready, whatever that means and C: I am still going to leave.
Stage 5:
Excitement Ė The ďIím getting outta here, thank goodnessĒ stage: About five days before I leave I finally start getting excited about my trip.
Right now I am somewhere between 3 and 4Ö.
Back
Next