Tuesday, December 25, 2007, 01:24 - Commentary
Brooklyn
It is Christmas eve so here are some presents in the form of photography jobs and opportunities….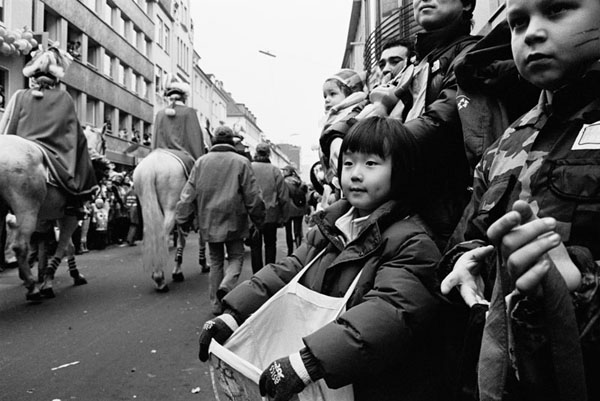 More, Please! © Damaso Reyes

***

Knight International Journalism-Health
Knight International seeks an experienced journalist with a background in health journalism to lead a high-impact, results-driven Fellowship in Sub-Saharan Africa. The Knight International Journalism Fellowships program sends international media professionals to key countries where there are opportunities for meaningful and measurable change. Working with partner organizations on high-impact projects, they build skills and enhance the standards of independent news organizations.Qualifications and Skills:- Background in health reporting required - Strong leadership qualities - Training experience is a plus - Experience in Africa a plus - Minimum of 10 years journalism experience - Fellowship open to any nationality - Fellowship duration is a minimum of one year Application: To apply, please send a letter of interest and your resume to
knight@icfj.org
. For more information, please visit our website at
http://knight.icfj.org/GetInvolved/Fell ... fault.aspx
***

Grants for Artists in Central and Western New York State, Saltonstall Foundation for the Arts
The Constance Saltonstall Foundation for the Arts annually awards grants of $5,000 each to writers and visual artists who live in the central and western counties of New York state. Grant recipients have used these grants in a variety of ways, including buying materials, preparing works for exhibit, and taking time to create new work. Grant categories change annually. For 2007, the categories are: painting; fiction; biography, autobiography, or memoir; and printmaking. All grant applicants must be at least twenty-one years of age and must reside in one of the following New York counties: Allegany, Broome, Cattaraugus, Cayuga, Chautauqua, Chenango, Chemung, Cortland, Erie, Genesee, Jefferson, Lewis, Livingston, Madison, Monroe, Niagara, Oneida, Onondaga, Ontario, Orleans, Oswego, Schuyler, Seneca, Steuben, Tioga, Tompkins, Wayne, Wyoming, and Yates.
http://www.saltonstall.org/
***

Astraea Visual Arts Fund
http://www.astraeafoundation.org/PHP/Gr ... rants.php4
The Astraea Visual Arts Fund aims to recognize the work of contemporary lesbian artists by providing 10 support to those who show artistic merit and whose art and perspective reflect a commitment to the Astraea Lesbian Foundation for Justice's mission and efforts to promote lesbian visibility and social justice. This year, Astraea will award three $2,500 cash awards to lesbian visual artists.
***
Residencies, Atlantic Center for the Arts
, New Smyrna Beach, FL
http://www.atlanticcenterforthearts.org ... _sched.htm
The residency program brings together three Master Artists from different artistic disciplines: visual arts (painting, sculpture, photography, film/video), architecture, music (composition and performance), literature, modern dance, performance art, and theater for interdisciplinary dialogue. All Associate Artist applications are forwarded to the appropriate Master Artist. Master Artists personally select between 8 and 10 applicants to participate in the residency. The program includes master classes, individual critiques, opportunities for collaboration, and private studio time. The essence of the program is to provide a collegial environment for artists where they can engage in meaningful interaction and stimulating discussions, while pursuing individual or group projects. It is an ideal setting for the exchange of ideas, the inspiration for new work, and the cross-fertilization of disciplines. Multiple deadlines check website for schedule.
Back
Next