Monday, November 26, 2007, 13:40 - Commentary
Stuttgart
Well it has been a busy weekend but I am almost done editing and I will be posting new images online later today! Of course I still have a bunch of film still left to process and scan but that's life!
In other news I have decided that Saturdays should not get to have all the fun and in addition to my weekly HCB quote I will start posting photography related jobs and opportunities every Monday. I have been doing this regularly on
Lightstalkers.org
but I figure why not do it here as well for those photographers who happen to visit my website. Good luck!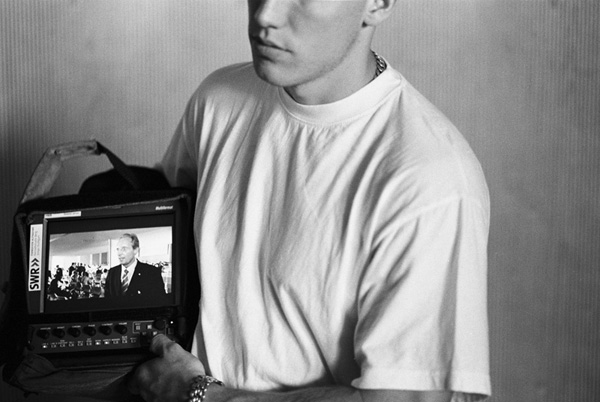 The Mayor of Stuttgart. © Damaso Reyes
*******
Knight Fellowships at Stanford
Deadline for international applicants is: December 15, 2007
Eight international journalists win several Knight Fellowships at Stanford each year. The fellows get nine months of study, intellectual growth and professional change at one of the world's great universities, right in the middle of Silicon Valley – in classes, independent study and research and special forums with academic and journalism leaders. At the end of the year they return to the rapidly changing journalism landscape with a renewed sense of purpose, deeper knowledge and tools to tackle the challenges ahead.
Fellows receive a stipend of $60,000 plus tuition, and supplements for health insurance, books, housing and childcare. All benefits and activities of the program are open to spouses and partners of Fellows. We're looking for: – Reporters and editors and anchors – Photographers and producers and news directors – Editorial cartoonists and multimedia producers – and more We want journalists who have already accomplished a lot and are ambitious to do more. Candidates must have five years professional, full-time experience. To apply, go to:
http://knight.stanford.edu/application/index.html
and complete the application form. Applications must be postmarked by December 15, 2007 to be considered for the 2008-2009 academic year. For more information, please visit:
http://knight.stanford.edu/
or email
knight-info@lists.stanford.edu
*******************
The New Jersey Herald seeks Photojournalist
We're preparing to expand our photography department for the third year in a row, and we're seeking a journalism-minded photographer to help us capture life in Sussex County and uphold our high standards of photo reproduction.
There's more to the position than simply shooting and toning photos. Our photojournalists are prized for their efficiency, versatility, and attention to accuracy. That work ethic is rewarded with interesting assignments, a generous newshole, abundant color positions, and the opportunity to explore individual projects and create photo essays.
The Herald provides a Canon Mark 2 and lenses, as well as a company vehicle for most assignments.
The New Jersey Herald is part of a privately held media company that has owned the newspaper for almost 40 years and just invested nearly $1 million in renovating the building and upgrading the newsroom computer system. Located in northwest New Jersey, The Herald has the Delaware Water Gap and the Appalachian Trail in the county and New York City entertainment an hour away.
We offer a competitive salary, medical, dental, and life insurance, profit-sharing and 401k plans, tuition reimbursement, and other benefits.
To apply, please e-mail a resume, references, and samples of your work to Anna Murphey, chief photographer, The New Jersey Herald, 2 Spring Street, Newton, N.J. 07860. Please indicate if you need your samples returned.
You may also e-mail your application to
amurphey@njherald.com
, but please send your photos as screen-quality attachments, not links.
**************************

Photographic Center Northwest seeking an Executive Director
The Photographic Center Northwest is a dynamic organization eager to offer ever-improving learning opportunities to a growing community of members. We are seeking an Executive Director who can lead us in the fulfillment of this mission.
Contact:
PCNW Board Executive Director Search Committee Photographic Center Northwest
900 12th Av E Seattle WA 98122
206-720-7222
board@pcnw.org
Back
Next