Tuesday, November 20, 2007, 13:13 - Project News, Commentary
Stuttgart
It's true, I
hate
editing.
Now you might wonder why, after all, this is the real first chance that I get to sit and look at my new images. Editing also takes a lot less time than scanning and is at least more interesting. So why do I hate it so much?
I blame the one percent rule.
More on that in a moment. The first reason is that when you look at a rough scan, or a rough print for that matter, you are basically looking at a naked photograph. No adjustments, contrast all out of whack and it doesn't help that the editing program I use tends to make all my black and white images look super grainy. So even if I am looking at a good image they all too often look like some of our better known celebrities when they go to the store for some milk without makeup:
ugly
.
Of course I know all this but the one percent rule makes it damn hard to remember. The one percent rule is basically my own rough editing guide that I have developed over the years. It states that only about one percent of all the images that I shoot end up being really good and what I would consider usable. What does this mean? Well let's do some simple math.
Say I go out on a shoot and take about 12 rolls of film, not uncommon for a day or two of shooting. Now each roll of film has 36 images so multiply that times 12.
12 rolls x 36 exposures = 432 images
Now when I process my film and then look at it on the light table I usually end up selecting roughly ten to fifteen percent of these images to scan, or if I have a darkroom to make test prints from to see how they look when they are enlarged. That equals about 45 images.
Now once I get them into the computer or for that matter have the test prints made, only about 10% of these images will have any interest for me. Often when an image is enlarged you see some small flaw or it turns out the photo just wasn't as interesting as I thought it was.
So from the initial 432 images I would select 4-6 as being up to my own standards, roughly one percent.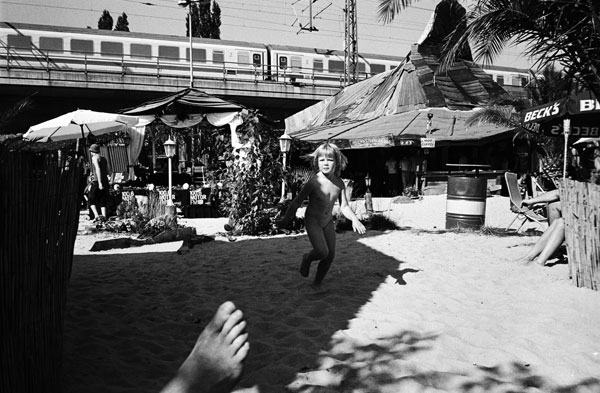 This is the good photo. Berlin summer 2007. © Damaso Reyes
Let's have a rare glimpse into my editing process! Here you can see that I scanned four frames of the same scene before deciding on this fifth frame as the one I liked the best. Of course there are several other images of this scene that I didn't scan but this example gives you an idea of what I go through to deliver what you see on the screen.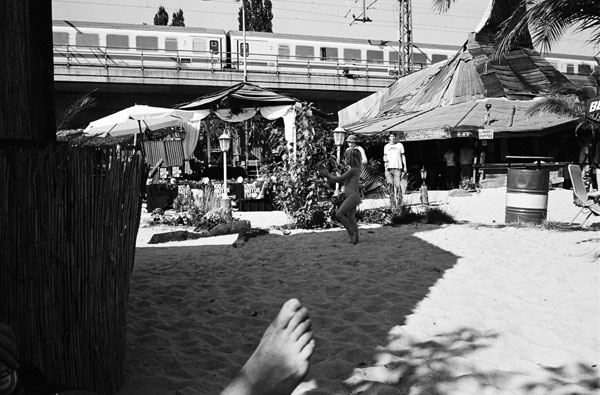 Nope, not this one. © Damaso Reyes
Not this one either. © Damaso Reyes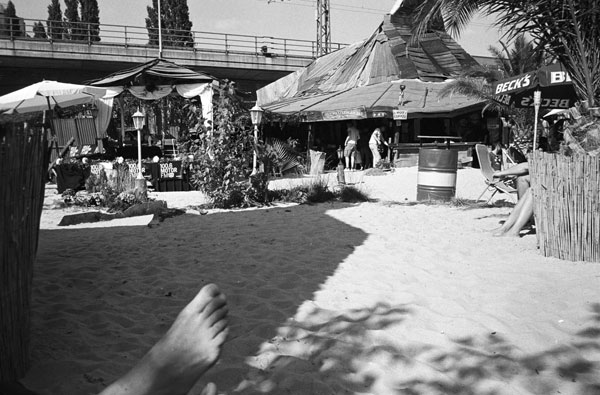 Are you kidding me? © Damaso Reyes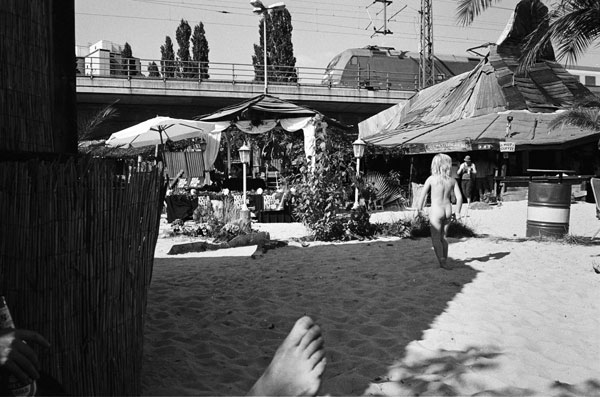 Close but no cigar! © Damaso Reyes
Of course our friend
Henri Cartier-Bresson
once said that you need a lot of milk to make a little cream. Truer words have never been spoken!
Now I just got through editing nearly 700 "selects" from over sixty rolls of film. The vast majority of these images are crap and when you look at one bad image after another it does something to your pride. I am constantly seeing my mistakes, which of course is a very good thing since I can apply it to the next shoot but unlike shooting digital where you can instantly see if there is a problem, there are no
"do overs"
in film. Which makes it more challenging and more frustrating.
So this is what I did yesterday and today: wade through the crap to find the pearls. Now of course I have to tidy them up in Photoshop and put them online, which will take another few days.
And people ask me why I dislike post-production…
Back
Next