Saturday, March 17, 2007, 21:16 - Travel, Personal, Commentary
Stuttgart
So I have been somewhat busy editing photos, taking long walks in the woods and planning some shoots for next week so I haven't been blogging too much. But I promise that soon you will see the fruits of my labor, or at least the vegetables. In the meantime I think I will begin a series of interludes describing some past experiences so you can get to know me and my work a little better…
March 30, 2004
Kibuye, RwandaThe hole was already a meter and a half deep by the time we arrived. The drive took over an hour, first over the newly paved roads which had recently been constructed and then over gravel and then dirt roads which took us continually west towards Kibuye, a small town which overlooks Lake Kivu.

The day began with a clear blue sky but as we headed west and up in altitude a fine mist began to envelope our Landcruiser. As we continued along the pothole filled roads I watched the hilly landscape through the occasional breaks in the weather. The terraced rice patties, the gentle slopes and intriguing valleys kept me occupied for most of the journey.

This was my second trip to the Central African nation which ten years before had been gripped by a hundred day genocide which took the lives of more than a million people. Jimmie, my best friend, was sitting next to me in the car, equally lost in his own thoughts. Finally we arrived at the hospital where we were supposed to observe the exhumation of a mass grave which was dug and filled during the genocide. As part of the tenth anniversary commemoration the Rwandan government had encouraged citizens to find the remaining mass graves which filled the countryside and exhume the bodies in order to give the dead a proper burial. We were to observe one such exhumation.

Raymond Kalisa, a Rwandan filmmaker who was working for CNN during the 10th anniversary, was our guide and slowly we walked toward a spot under a large tree where many people had gathered. A young man in his early twenties was telling his story. He had been at the hospital at the time and had witnessed the massacre. He was sure that this spot was where the bodies lay hidden for the past ten years. With no preamble young men began hacking away at the soft earth, much the way it had been disturbed ten years earlier, with picks and hoes.



Searching for bodies at the hospital. © Damaso Reyes

For nearly two hours they dug but other than a few animal remains the dead remained elusive.
Our small group went back to our vehicle and set off towards the Lake where we were told that another, smaller exhumation would be taking place. Again, silence filled the car.

Thirty minutes later we were walking up a small hillside. By the time we arrived the hole was already a meter and a half deep, villagers, some incongruously wearing their Sunday finest, were gathered around the sides of a long, curving trench which had been cut into the hillside. They observed us with eyes that seemed to ask "why are you here?" Raymond told them that we were journalists here to document the exhumation. They returned to watching the trench, which was slowly growing deeper as men young and old took turns removing the sticky clay soil which buried their dead.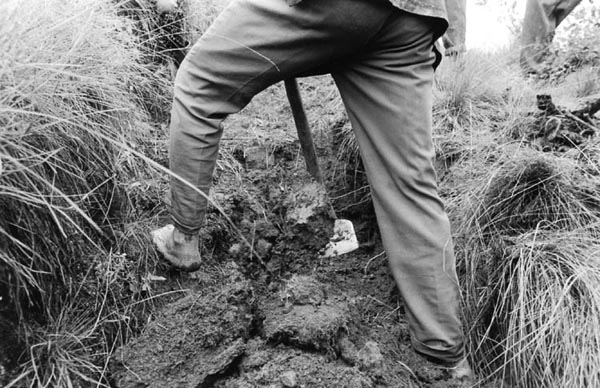 Digging up the past. © Damaso Reyes

Soon after we arrived a femur was found. It was carefully placed into one of the many empty rice sacks which had been procured for the exhumation. Soon more bones followed, then a skull. The onlookers watched on nearly impassively, occasionally pointing to some remains and whispering among themselves. Small children flitted about the edges, curious to see what was going on, unaware of the magnitude. These young souls had been born long after the evil that swept over their nation had left. The eyes of their parents bore silent witness to the horror that the landscape had endured.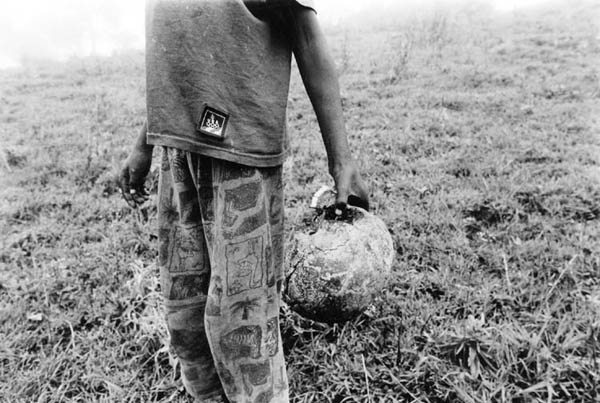 A young child plays with a skull. © Damaso Reyes

Throughout it all I moved silently around and occasionally into, the trench, documenting the men's work and the terrible product of that work. The camera protected me from the content of the images I was creating: a freshly discovered bone hoisted out of the trench; a skull slowly cleaned of the cloying soil which had kept it hidden for a decade; the decomposed dress of a two year old who had been brutally murdered and casually dumped into the trench. Roll after roll, I went about my work, trying to be a professional.

After two hours and twelve rolls of film I turned to Jimmie, who had been observing and occasionally speaking with the villagers. "I'm done," I told him. He seemed slightly surprised but understood. "If I don't have it already, I'm not going to get it." He nodded his head as I sat down on a nearby rock and watched the villagers continue their work.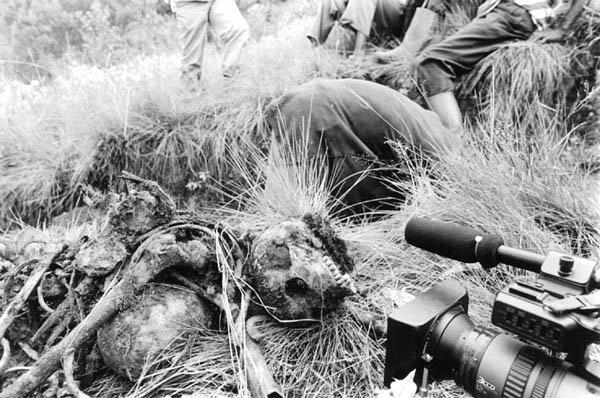 Bearing Witness. © Damaso Reyes

Five years earlier during my first trip here I was determined not to let me feelings get in the way of my work. What I realized afterwards is that it was not wise to let myself grow too distant from my humanity. Truly it was the thing which allowed me to do the painful work that I felt was my calling and to deny that would be to deny myself. Standing at the side of that trench, overlooking a lovely valley I knew that I couldn't take anymore photographs. I had imposed on the situation enough and I knew that taking more photographs would be bad for my soul, or what was left of it.

There is of course this deeply rooted myth that when you photograph someone you take their soul. I believe the opposite is true. You can't photograph something like an exhumation without leaving part of yourself behind. There is some kind of essential trade that happens when you photograph difficult situations: a piece of yourself for an image. We don't get a high or take any joy when documenting other people's pain, in way through creating a document of an event we share it, and often we would rather not. But in creating a connection between the viewer and the subject the photographer himself must act as a bridge. And that has an effect.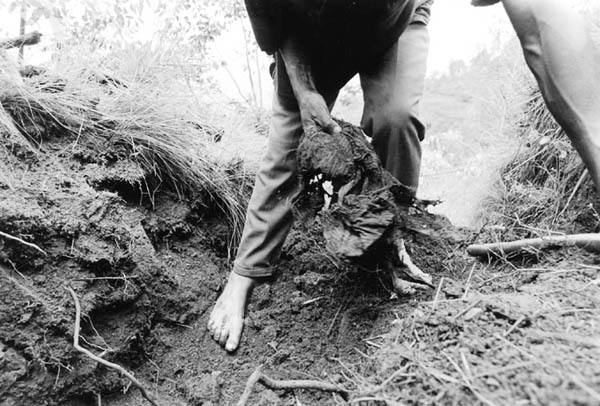 Searching the past. © Damaso Reyes

For me that day has remained with me and always will. When people ask me why I am an atheist, I tell them that story and the dozen others that I have borne witness to. No God I want to pray to allows such horror. When people ask why I don't believe in God I ask them in turn why do they believe. For me that day simply confirmed what I already knew: the goodness or evil in men resides solely with them; we have no one else to turn to, no one else to blame….

Back
Next