Wednesday, March 7, 2007, 18:12 - Personal
Stuttgart
While most of the people reading this blog are friends or search engine bots, there may very well be a few people here and there who don't know much about me. So here 33 things you might find interesting, in no particular order…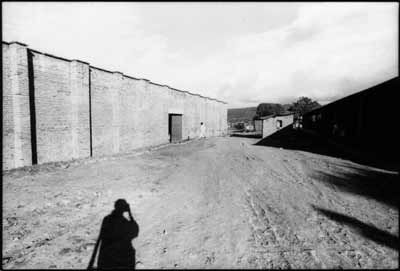 Self Portrait. Rwanda 1999.©Damaso Reyes
1. I can go for weeks at a time without taking a photo
2. I haven't cut my hair since June 17th, 1995
3. I sometimes get carsick during short car trips
4. I need about 10 hours of sleep a day, but watch out when I wake up!
5. I like really hot, really long showers, it's where I do my best thinking
6. I generally don't like to go to sleep before one or two in the morning
7. I don't eat breakfast, I like to save myself for lunch
8. My favorite lens is the
Canon Eos 24/1.4
9. I didn't pay for a taxi until I was 17
10. When I find a new song I like I listen to it over and over again, like 50 times in a row
11. I only have five good friends. Are YOU on that list?
12. I can barbecue really well
13. I hate writing but under deadline I can write well and prolifically. I can also write 300 words on any subject on demand
14. I have made more money and won more awards for my writing than for my photography ;(
15. When I am working really hard I often forget to eat, sometimes for a day or two
16. I have very little body hair
17. I am found of the phrase "My mother didn't come to this country so that I…"
18. I am a cat person
19. I like to write and receive postcards
20. I didn't learn to drive until I was 20 years old
21. I can blow glass
22. I am a television junkie. I can watch a good TV series all day and all night
23. In winter I sometimes don't leave the house for three or four days at a time
24. I always take ice in my drinks and I never use a straw
25. It always takes me at least an hour to fall asleep after I go to bed, no matter what
26. I wear shoes, trousers and shirts until they wear out
27. I am a registered member of the Green party
28. I like to read techno-thriller novels
29. I have trouble sleeping on airplanes except for the last 45 minutes of a flight
30. My favorite cocktail is a
Tom Collins
31. I only like to wear v neck undershirts
32. I am double jointed in my thumbs
33. I have never worn contact lenses
Back
Next