Wednesday, March 4, 2009, 08:33 - Commentary, Photo of the Day
Stúrovo, Slovakia
It only seems like it's Germany week here at the Europeans but in all fairness it is the largest country in terms of G.D.P. and population so I suppose it is only fair that it catches the spotlight every once in a while. Also perhaps this will motivate me to keep practicing my German this week (Hallo Peter, wie geht's?).
In an
interesting article
in the International Herald Tribune, we explore the fate of some Germans who found themselves on the wrong side of the line when the post-WWII borders were redrawn.

"The damp mud falls away easily from the long thighbone jutting out of the dirt wall of the trench at the gentle prod of the shovel's tip. Beyond the mass grave filled with the skeletal remains of some 2,000 people, presumed to be Germans who died in the closing months of World War II, stands the red-brick fortress of the Teutonic Knights that was once one of Germany's greatest landmarks until it was forced to cede the territory to Poland after the war.

"Until then, Malbork was the German town of Marienburg, and the authorities believe the dead men, women and children buried together here were inhabitants of the city, along with refugees from places farther east, such as Königsberg, now Kaliningrad, fleeing the devastating Soviet counterattack that would eventually capture Berlin. Several dozen of the skulls have bullet holes, which prompted speculation of a massacre when the first bodies were found last October, whereas now the talk centers on cold, hunger and most of all typhus, which was rampant at the time."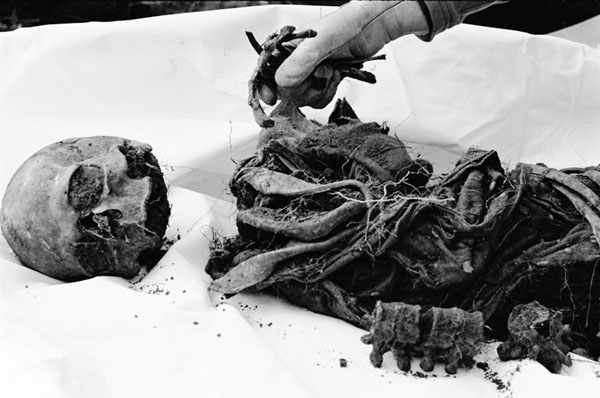 Bringing out the Dead.
Kosovo
2005 © Damaso Reyes
The article makes some very interesting points one of which is that it is no longer verboten to talk about the suffering that German civilians suffered during the war. To me this shows an evolution to the discussion of recent history, one that is more accurately starting to reflect the nuance and subtlety that allows history to truly tell the story of those who lived through it.
As an American it seems like the weight of history is everywhere. Sometimes that history seems incredibly oppressive as well. But part of understanding history is to make it one's own and that is a process that never truly ends…
Back
Next