Tuesday, June 3, 2008, 14:25 - Commentary
Brooklyn

Shaft:
Sorry, I can't make it

Ellie:
You got problems, baby?

Shaft:
(Laughs) Yeah, I got a couple of 'em. I
was born black and I was born poor.

From Shaft (1971)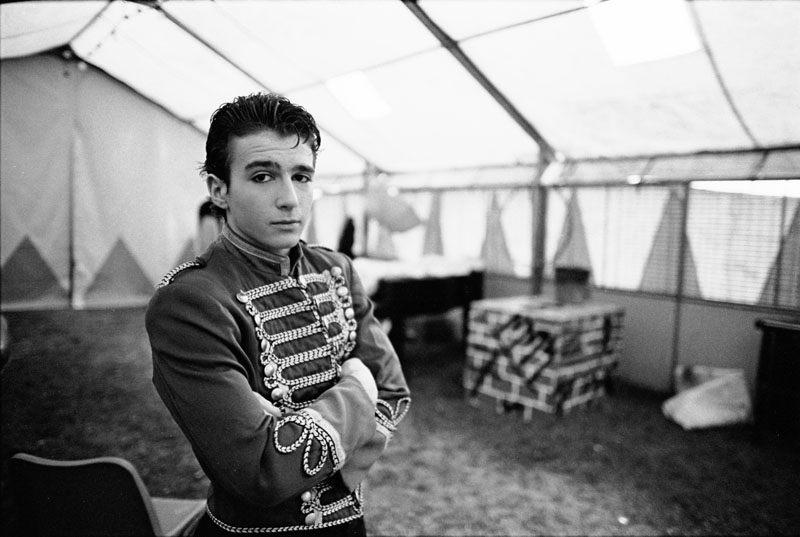 © Damaso Reyes
Right now I am standing in Brooklyn, where it all began. Iíve been around the world from Asia to Europe and once again I find myself in the borough of Kings. All in all, not a bad place to be all things considered. But before I address the issue of where I want to go it is important to look at where I am.
For the moment I will address this topic from the perspective of
The Europeans
. So far I have photographed in
eight countries
in Europe. Not bad but considering there are more than thirty on the continent there is some distance still to travel. I have shot several hundred rolls of film, pretty good once you accept how anachronistic it is to still be shooting film. If you take the time, and it does take a while, to explore the
website
and look at the images I feel like the outside viewer can see something of a theme, at least a visual one, emerging from the disparate elements. Of course this is not the final presentation of the work; nevertheless one can imagine what a book or an exhibition might look like.
In my head I feel as though I am about one third of the way through the project, at least in terms of time. It began three years ago with money out of my own pocket. No grants, no fellowships; just money I earned through photography and journalism. The few articles I published along the way helped defray some of the costs I incurred that first year but in no way paid for my adventures.
Realizing this I decided to apply for as many fellowships and grants as I could. While this was certainly a great idea, the problem is one of time. Most grants of any substance have a long waiting period between when you apply and when you receive a decision. Usually a few months but sometimes itís the better part of a year before you get that email in your inbox. And that doesnít mean that you can start right away. It could be another six months before you receive any money. So 2006 was a fallow year with only a few days of shooting on the project.
Finally in 2007 I began to reap the harvest of filling out all those applications. I spent eight months total as a fellow at
Akademie Schloss Solitude
in Stuttgart and then another two months as an
Arthur F. Burns
fellow in Berlin. For ten months last year I did little else but shoot, traveling all around Germany as well as to France and Switzerland documenting the changing face of Europe. Earlier this year I spent several months in
Austria
as a
Fulbright scholar
where I continued my work.
I learned a few things. First: I really enjoy working for myself. It may seem obvious but I like setting my own pace, deciding on my own what is important to photograph and when and most importantly how. Second: this requires money. Again, it may seem obvious but money is what makes this world go around and in order to do as I please I need the funds to do it.
The reason I mention this point is that it has become increasingly clear to me that the marketplace isnít going to provide those funds. Journalism as a funding course is a dead end.
This article
I did for the Christian Science Monitor from
Kosovo
paid less than $400. That doesnít begin to touch the airfare and on the ground expenses that I incurred let alone compensate me for my time. Now I didnít get into journalism to get rich but I did expect it to pay my way. That has become increasingly untenable. Magazines and newspapers are cutting back on their foreign coverage, closing international bureaus and increasingly relying on the wire services. All this means that there are fewer dollars, or Euros for that matter, for freelancers like me.
Perhaps more importantly the main-stream media has a notoriously short attention span. Right now they only thing most editors care about is Iraq. Now
when I went to Iraq
in 2000 no one was interested in a story. When I went to Kosovo in 2005 it was all I could do to sell the story that I did. I have decided that I am not interested in letting the marketplace decide what I should cover and when;
history is too important to let middle managers who never leave their desks to choose what is important to pay attention to.
So what does that leave? There are too few substantial grants for individuals out there to rely upon and they take far too long to get. The marketplace has other interests and nuance is not among them. So which way forward?
I will address that on ThursdayÖ
Back
Next