Wednesday, July 15, 2009, 13:15 - Commentary, Photo of the Day
Protesting in Europe is a time honored tradition. Some young people see hurling paving stones at "the man" as a rite of passage. In the eyes of many no event more symbolizes global capitalist oppression than the G-8 summit, held this year in Italy.
But for some reason
the protestors have not booked their EasyJet tickets.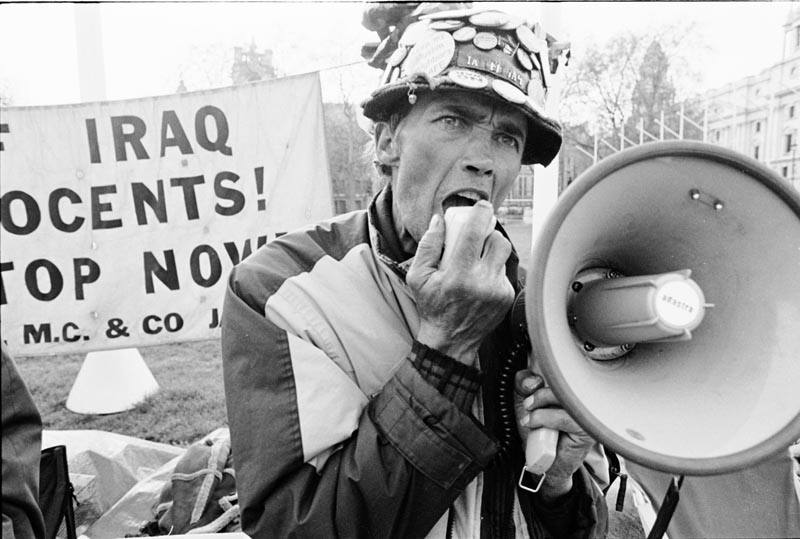 "Where is everyone?"
London
2005. © Damaso Reyes
"But the globalization critics from around the world who have descended on every major international summit since 1999 are largely absent this week. And the tents erected in L'Aquila are not the mass campgrounds of protesters that have become a familiar sight at these kinds of summits, they are the temporary domiciles for tens of thousands of local residents who lost their homes in the quake."

"The few protests that are taking place are happening in large cities elsewhere in Italy. In Rome on Tuesday, around 150 protesters marched through the streets. Smaller demonstrations were also held in Turin and Bologna."
Has the spirit of those fighting for the international worker faded? I doubt it? But just when you would think that an organized critique of the system would have the most weight it seems to be absent in large part. Some of this may be due to the economic downturn itself with fewer protestors having the extra money to hop on a plane and challenge the system for a week. It could also be that protestors are finding more interesting ways of expressing themselves via the internet and perhaps even voting. This engagement, much more so than marching, has pushed many of the agenda items of the left, like social and environmental justice, well into the mainstream. Given the state of the millions who find themselves out of work and struggling throughout Europe those who love to carry the banners and man the barricades have not quite put themselves out of work…
Back
Next