Monday, August 25, 2008, 12:59 - Commentary, Photo of the Day
Brooklyn
As much as people take photography, and the work that photojournalists do for granted, the impact that our images have on the way people remember and interpret history is profound. This year marks the 40th anniversary of the Soviet invasion of Czechoslovakia and the events in Georgia are a stark reminder of the ways in which history repeats itself.
There is a great article
in The Guardian about the Czech photographer
Josef Koudelka
who documented the Soviet invasion and its aftermath providing the entire world with some of the few images of what happened. Risking his life he took more than 5,000 images in one week of the invasion of Prague and smuggled the images out.
"The previously unseen images, though, are powerful for different reasons. They provide a unique visual record of 20th century history as it unfolded, an event of incredible emotional and political intensity that lasted a week yet changed the course of a nation for two decades afterwards. In one brilliantly composed image after another, Koudelka has also captured the energy of mass protest like no one before or since, an energy that flared from angry disbelief into violent protest and then faded just as suddenly. 'When I look at these pictures now, I can't believe I did them. Magnum could not believe it was the work of one photographer. I was everywhere because everywhere I looked in those seven days there is another photograph waiting for me. I did not have time to even think about the danger.'"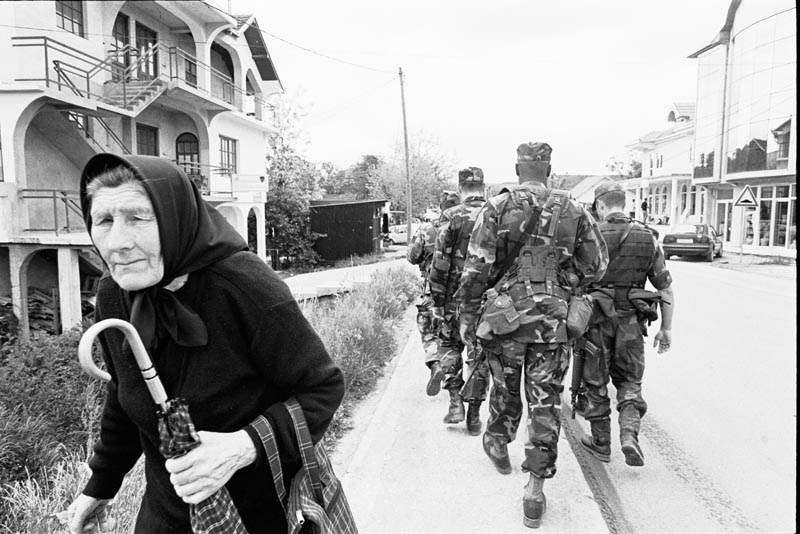 Who will watch the watchmen? Kosovo 2005 © Damaso Reyes
While everyone may have a camera, or camera phone, not everyone can be a photojournalist…
Back
Next