Tuesday, October 21, 2008, 13:23 - Commentary, Photo of the Day
Perhaps it is naïve to think that 27 different countries can agree on anything, let alone a topic as complex as immigration but the E.U. recently did just that as
we learn from Spiegel Online
.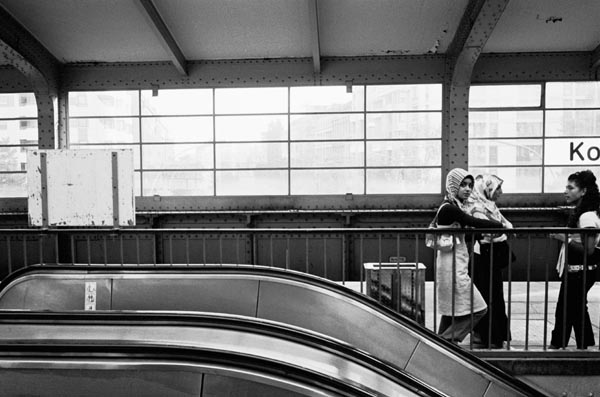 Still waiting.
Berlin
2006
Many critics are unhappy with the restrictive content of the agreement: Refugee organizations claim its main focus is on security questions, and argue that such an approach has so far failed to solve immigration problems in Europe.
"Important guidelines to defend human rights were missing, said Bjarte Vandvik, Secretary General of the European Council on Refugees and Exiles. He said it wasn't at all clear how asylum seekers could even reach the EU under the new, stronger border security proposals.

"A German EU parliamentarian, Angelika Beer from the Green Party, condemned the new document. "This immigration pact from Sarkozy and company is a plan for even more deportation and segregation in the EU," she said. Europe's border-protection agency, Frontex, will have more influence, punishments against immigrants will be sharpened and the power of parliaments in the member states to oversee immigration remains unclear, she argued."
What we don't have is an open and honest discussion about the needs of Europe when it comes to labor and what immigrants and asylum seekers deserve. Until that happens there will be very little in the way of change when it comes to European attitude towards immigrant, something that needs to happen as xenophobia and attacks of immigrants and well as nationals of foreign decent continue.
Back
Next