Wednesday, October 22, 2008, 11:46 - Commentary, Photo of the Day
Even politicians are sounding the alarm about racism in Italy. Granted Jean-Léonard Touadi is not your average politician. Born in Congo he came to Italy in 1979 and made himself into a journalist, author and activist before being elected to the Italian parliament as
we learn from the U.K.'s Observer
.
'There are now Italians here with non-Italian horizons and this is our future,' said Touadi. For the MP, who forged a career in journalism and local politics in Rome before entering parliament this year, the rising number of incidents is linked to the increasingly strident tone of Maroni's party, the anti-immigrant Northern League, which is a linchpin in Silvio Berlusconi's governing coalition.

'The League is pushing discrimination, separation and xenophobia and dragging the government, and with it Italy, towards the systematic violation of human rights,' he said, citing proposals tabled this month by the party which call for the expulsion of legal immigrants who commit a certain number of offences, restrictions on mixed marriages and a new obligation on doctors to report illegal immigrants in their care. Previous moves to expel vagrant Romanians and jail illegal immigrants were challenged last week by the EU.

'For the League, the real problem is not illegal immigration, it's immigration. They need to stop while there is still time,' said Touadi. With legal immigrant numbers rising 17 per cent last year to 3.6 million, Touadi said the spectre of fascism was returning to haunt Italy. 'We've seen Rome taxi drivers chanting "Duce, Duce" at the town hall when the new right-wing mayor was elected this year and now fans with swastikas are following the national football team. Italy will need millions of immigrants to maintain its workforce if birth rates continue to be low, and entire sectors of the economy, like hotels and agriculture, would go under now without them, but the government prefers demagoguery.'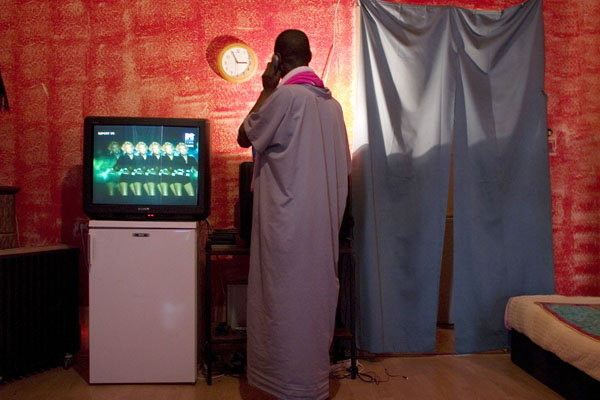 Culture clash.
Vienna
2008 © Damaso Reyes
The last sentence particularly resonates with me. This is the kind of honest conversation that Italians and all Europeans need to be having about this topic. But because so many people fear that immigration will somehow lead to a loss of their culture (which itself is an amalgamation) it is difficult for many people to talk about the topic rationally. But talk we must if we are going to ever come to a reconciliation about immigration.
Back
Next