Wednesday, October 29, 2008, 11:09 - Personal, Commentary
Yesterday I got yet another form letter in the mail thanking me for my application but due to the large numbers of excellent proposals mine was not selected. It's not like I am new to this game but you get enough rejections in a row and you start to get frustrated, even discouraged.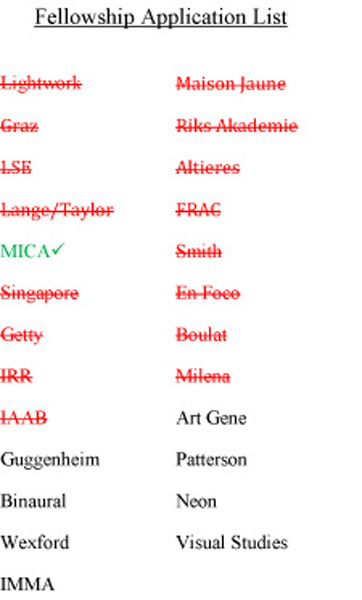 The numbers don't lie.
On my desk I keep a list of all the different grants, fellowships and residencies that I've applied for during the current year. As you can see, green is for ones which I've gotten, red for ones that I've been rejected and black are ones that I haven't heard back from yet. Out o the seventeen that I have heard from I have been rejected by all but one. Those are some harsh odds.
I had hoped that the longer I do this and the better a body of work I produce the more success I would have but so far this year it seems not to be the case, which is really too bad since these grants and fellowships make up a large part of the funding for this project.
I try to keep it all in perspective and not let the rejections get to me but I have to say that lately it ain't easy….
Back
Next