Monday, November 10, 2008, 15:54 - Commentary, Photo of the Day
There are two kinds of people: those who love mirrors, stopping at every one they see in order to check their appearance and those who do everything they can to avoid them. The lens is a kind of mirror too, holding up an image of ourselves, often one that we would rather not see.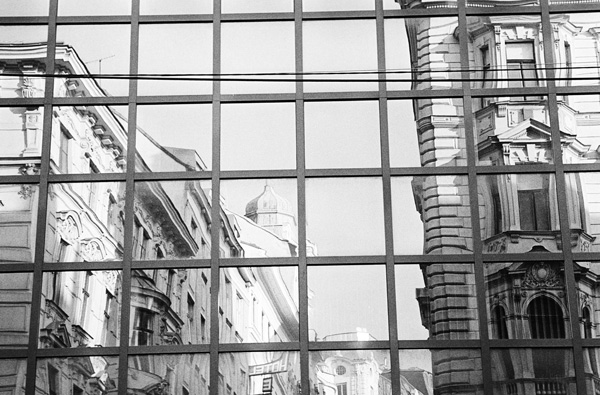 Mirror, Mirror.
Vienna
2008 © Damaso Reyes
The election last week of Barack Obama serves as a kind of mirror as well. Americans, even those who didn't support Obama see his victory as an important milestone that deserves to be celebrated. Around the world the cheers have come. Of course there are always exceptions.
Der Spiegel
tells us about
how one prominent Austrian television personality viewed the American election.

"I wouldn't want the Western world to be directed by a black man. When you say that is a racist remark: right, without a doubt."
Americans are "racists, now as before, and it must be going very badly for them that they so convincingly ... send a black man, and a black, very good-looking woman, into the White House,"
Klaus Emmerich said.
This would be funny if it were in a satirical newspaper like The Onion which did run a very funny article titled
Black Man gets Nation's Worst Job
. But it wasn't.
Then we have our good friend Prime Minister Silvio Berlusconi of Italy who the
New York Times reports
:

"amiably called the first African-American president-elect in United States history 'young, handsome and suntanned.'"
Clearly there are many in Europe who would like to go back to the good old days before immigration, presumably sometime before the rise of the Roman republic I imagine. Both Austria and Italy are having problems dealing with immigration and xenophobia ao it is not so surprising that these comments come from these nations. Of course these two men don't speak for the entire population. That said, they are indicators of who a not insubstantial percentage of the population feel. The question is how can we move past old prejudices and into a society that is reflective of the diversity of our world?
Back
Next