Saturday, December 22, 2007, 14:14 - Commentary
Brooklyn
Once again time seems to be moving far faster than I am. I can only say that I am glad that I have a month here in New York because anything less just seems like not enough. In some ways I suppose it is like a dream: every time I return to New York it is like slipping on a pair of old gloves. This city is perhaps the only place in the world where I feel totally comfortable; completely at ease. And now that feeling is slowly slipping through my fingers as I prepare to head to Vienna.
The German word for foreigner is
Auslander
. But it can also mean, and its root really is,
outsider
. It is a perfect word because that is very much how one feels there. The luxury of growing up in New York, the most diverse of all cities does not prepare you for the looks, stares and hostility. There is no fading into the background, slipping into anonymity for me; I am always on display. I suppose that is why the camera is so comforting; it allows me to return the stare. I suppose that I why I also have a number of images in which the subject is looking directly at the camera: I want the viewer to experience for a moment what I go through every day…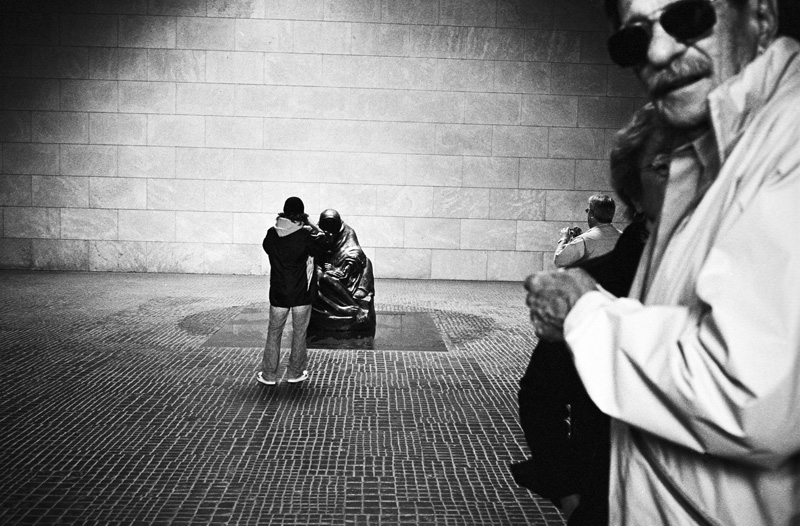 They Never Stop Looking. Berlin August 2007 © Damaso Reyes
"What is photojournalism? Occasionally, a very unique photo, in which form is precise and rich enough and content has enough resonance, is sufficient in itself - but that's rarely the case. The elements of a subject that speak to us are often scattered and can't be captured in one photo; we don't have the right to force them together, and to stage them would be cheating... which brings us to the need for photojournalism."
- Henri Cartier-Bresson
. American Photo", September/October 1997, page: 76
Back
Next