Tuesday, December 23, 2008, 12:50 - Commentary, Photo of the Day
As Christmas approaches it is a great time to sit with family and enjoy some downtime. It is also a great opportunity to explore how other cultures celebrate the holiday. Almost none is as unique at The Netherlands who have the familiar face of Santa Claus but also a less recognizable fellow named Zwarte Piet ("Black Pete") as
we learn from Der Spiegel
.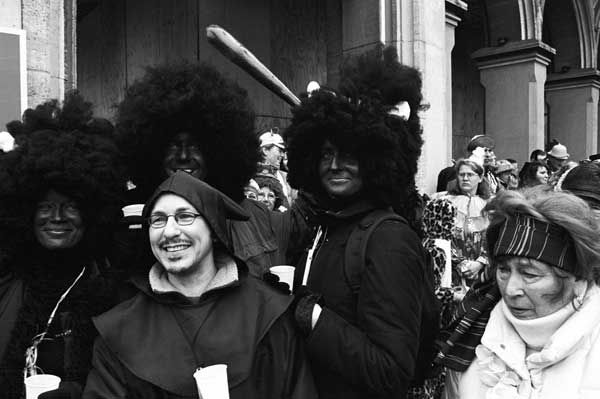 Not so funny. Cologne 2007 © Damaso Reyes

"Perpetually in tow is Sinterklaas' slave, Black Pete. At least that's what he was called from his 19th century origins up until the 1950s, when a new focus on cultural sensitivity led to a slight watering down of a tradition that was slowly subjected to the rigors of political correctness. In the new tale told to children each year, that pesky black face paint on Zwarte Piet's face comes from soot collected as Santa's helper wriggles down chimneys to deposit branches in the shoes of badly behaving kids or to help deliver presents from Sinterklaas for the good ones. Some whitewashers of this racist little tale also like to say he's a chimney sweep. "It's just an excuse used by people because they don't like to be reminded of the dark nature of Black Pete," says Walraven.

"The arrival of Sinterklaas and Zwarte Piet is an event covered live on national television and the festivities are celebrated across the country. For several weeks, dozens of Zwarte Pieten and Sinterklaases can be seen crisscrossing the lowlands country, culminating on Dec. 5 with the exchange of gifts. Throughout the celebrations, you can buy Black Pete cakes, plush toys, balloons, chocolates and any number of knickknacks."
I'm all for cultural diversity but this is one tradition that I think will begin to fade as the Dutch begin to accept the growing diversity of their nation not as a threat but as a blessing. That, of course, will take some time but in another two or three generations Black Pete will either fade to the background or be seen as a harmless cultural anachronism.
Back
Next