Saturday, May 10, 2008, 19:13 - Project News, Commentary
Brooklyn
So the scanning is done! Hold your applause because there is still editing to do but that will fly by but for no other reason than there arenít that many images to go through. So this time next week there should be some new galleries for you to check out. In the meantime here is an image from
Vienna
to tide you over.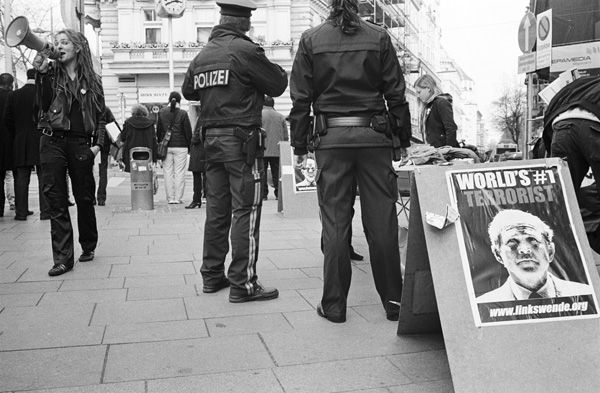 Freedom of Speech
. © Damaso Reyes
So right now I am in
limbo
. When I was in Vienna I met someone who said that they were interested in doing some
fundraising
for
The Europeans
. Promises were made, hopes were raised and of course, much to my dismay, things didnít work out. Perhaps it is because of my childhood on the mean streets of Brooklyn but I am not the most trusting of people. I did however make an exception in this case and my worst instincts were perversely proven correct.
Now I didnít lose anything except some time and a little faith in my fellow human beings. But the past few weeks did reinforce something I already knew:
I need money
.
Now this seems obvious. But it has become increasingly clear that in order to do my project properly I need the kind of financial freedom that does not come from small grants or fellowship. I need enough money to be able to plan months in advance without having to worry if I can afford to go to point A or rent a hotel in point B.
So over the next few weeks I will be asking various people in the world of high finance and with experience in fundraising for their advice. I clearly need to take things to the next level in terms of raising money so I can buy the
equipment I need
as well as set up a base of operations and have just a little piece of mind. Feel free to contribute some concrete suggestions or ideas!
Until the money starts pouring in here is your HCB Quote of the Week!
Thereís a particular kind of painting that is no longer practiced, that of portraiture, and there are those who say that the discovery of photography is the cause. It does seem apt to credit photography with the abandonment by painters of this painterly form. A subject wearing a military coat, a cap, and sitting on a horse can discourage even the most well-schooled painter, who feels overwhelmed by all the details of the costume. We, as photographers, are not bothered by all these details. Rather, we enjoy ourselves, because we can easily capture life in all its reality through our camera.
-
Henri Cartier-Bresson

Back
Next